An Essential Exercise After Shopping! 
Honesty time? I hate shopping.
Any kind of shopping really. I manage the weekly grocery shop by going at a time when Tesco's is almost empty, when the lovely staff have time to chat and I have the most organised list you will ever meet, with my requirements noted in aisle order on my preprinted template. I charge up and down those aisles at the speed of light and only stop to chat to Aiden in Fruit and Veg, Charles who drives the cleaning machine, Natalie on the fish counter, Steve in charge of tills, Guy and Ian the manager and deputy manager – if they're around – and the lovely Kathleen on the self-service check-out tills.
For me, it's the staff that make shopping bearable.
It was the same today. I went clothes shopping with a favourite client of mine.
Margaret and Roger are two of the most delightful people you could ever hope to meet and I have the privilege of being their image consultant. They are blind, and so they do really need me. And they are so lovely they make that need my joy.
Today Margaret and I went shopping in Peterborough. We were mainly shopping for Margaret, but we did need to get a shirt and tie for Roger who is going to an awards dinner next week and, whisper it, may be getting an award for his software which turns web pages into an audible format so that the internet can be accessed by the blind.
We only went to M&S and John Lewis; I like to keep things simple. The service we received by the staff in both shops was superb. Special mention to Ian in John Lewis Menswear who found me the perfect Autumn navy shirt (with a teeny-tiny old gold floral pattern) and bright orange silk tie for Roger to wear with his beige and navy striped jacket. Look, if it sounds hideous, Roger's an Autumn Natural Gamin: he can do that quirky, contemporary and slightly shocking look with style, Baby, with style!
But this isn't about our lovely time shopping or the lovely things we managed to get. It's about what happens afterwards.
Part of my shopping service for Margaret is the bit, when we've got home, where we go through each new piece and note which items in her existing wardrobe it goes with and which it doesn't.
You can see why Margaret needs me to do that for her, because she can't see for herself.
But – we all need to do it for ourselves too – before we take off those tags – OK?
Now, I was pushed for time with Margaret today, so I can't show you her gorgeous (Classic Ingenue) wardrobe. But I can show you the exercise I did with the pink jacket I bought last week.
You remember the pink jacket? Here it is again.
Now, with any new piece of clothing, it is important to establish how it fits into your existing wardrobe. Handy hint? Do this before you take the tags off, just in case it doesn't fit in at all, and you realise with an icy sinking feeling, that you've actually bought a garment that doesn't truly belong to you at all and you need to take it back…
So – when I bought my new pink jacket, I was wearing a chocolate lace camisole (Kettlewell) and my favourite Maison Chocolat trousers which are cream with lots of chocolate circles all over (they were marked down from £180 to £10 in Boundary Mills because I don't think anyone else would have the chutzpah to wear them!) So I know the jacket works with them.
Here's the jacket with the cami.
So, yes, i know it works with the chocolate cami. What else does it work with?
Systematically, we start to work through the rest of the wardrobe…
Coffee/tan notch neck – yes. But, let's be honest – that's two browns. We know that this geranium pink goes with the browns. Let's try something else…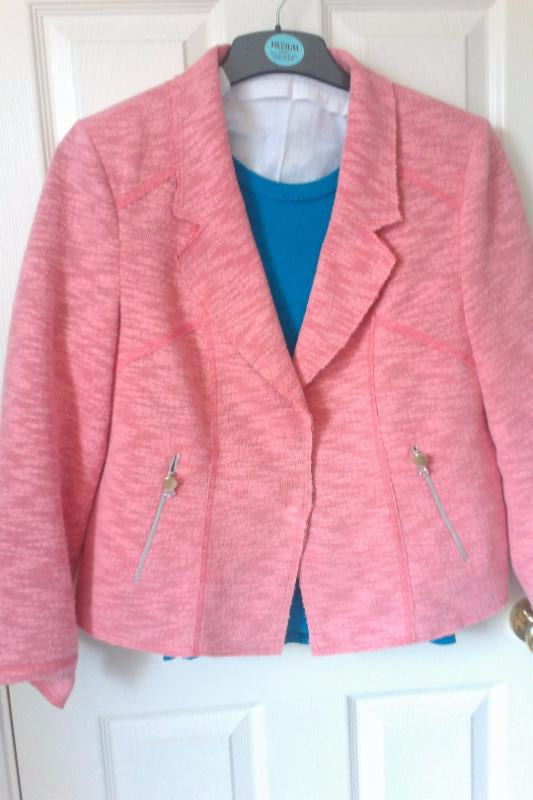 Bright turquoise. Hmmmm. Not sure. This looks a bit bright to me. One of the things that Springs have to guard against is looking like an explosion in a paint factory (a sad fact, true) and I'm just getting a hint of Newton and Windsor about this combination. If we imagine navy or oxford blue trousers with it?… Well, not impossible, but I remain unconvinced…
So, bright navy? Yup – I think this works!
Onwards and upwards…
Ah, how about pink on pink? Geranium pink on salmon pink? (recipe for disaster, you're thinking? Well, maybe not…
Well – that's Okay, but rather boring. But – wait – what happens if I put a scarf with it that picks up both pinks?
And suddenly that's a lot better!
So – green?
Not quite sure there. But with my dark brown trousers, it might work…
Yellow?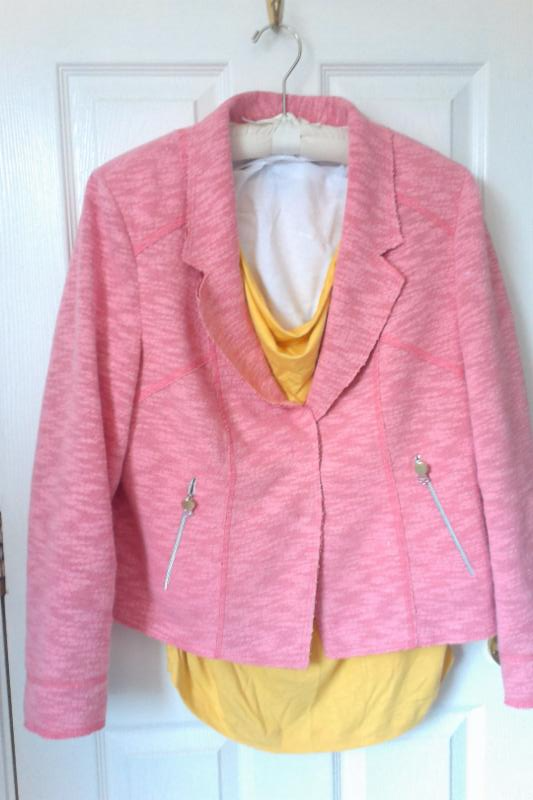 Oh, yeuk! I don't like that at all!.
And lastly – grey…
Now that, with my Oxford Blue trousers is going to look very classy indeed.
Now the next step is of course to see what bottoms the jacket goes with. Well, I ran out of time to take photos there, but I did discover that, sadly, it doesn't go with any of my skirts, apart from the plain chocolate one, but it does go with nearly all my trousers. Ah – not the apple green ones.
The reason for doing this exercise, as you've probably guessed, is to make sure that you get the maximum wear out of your clothes. If you only ever wear items with the the companions you expect them to go with, the safe choices, then you restrict yourself and end up with boring outfits.
By trying all your clothes against each other – even the combinations you don't think have a hope of succeeding – you get some nice surprises, a few laughs and a lot more options and choices.
And, if you find a combination you're not sure about, try adding in a third colour from your palette and seeing what happens.
This might happen. Your friends will say, "You know, I never would have thought of putting those colours together, but on you it really works."
And then you can say "Thank you," and feel all smug inside.
I tell you, that's a nice feeling.
Good luck with your combinations!
And no – I don't mean these ones!
Woollen combinations. All in One Thermal Underwear