What's Romantic About Uniform?
"The shabby little hall, with a dusty dais at the end, had perhaps fifty people in it. About half were young men in uniform, rather outshining the youthful farm workers and shop boys in civvies. The uniform blotted out whatever they may have been like in peace-time; no better than the rest of the company, most likely and possibly much worse, but khaki and air-force blue gave them now the status of heroes. The notorious land-girls were much in evidence, with their city skills in make-up and nice dresses.
A Presumption of Death by Jill Paton Walsh and Dorothy L Sayers 
Now – to get us in the mood we really need that Vera Lynn, don't we? So here she is, singing The white Cliffs of Dover (with additional Spitfire percussion).
Well, we're not being allowed to forget that this year sees the 70th anniversary of Victory in Europe Day and the designers have taken this on board so that military styles abound, if you can find them among the kimonos and day-dreamy prints, that is. So if you're someone who absolutely demands that a hemline should be one length all round, that fabric should have structure, not drape or billowing fullness and you can stand the patch pockets over your boobs (hint – it's best not to have big boobs) then this look might just be for you. Oh, and it will help if you're an Autumn, because Khaki is rather the colour de jour!
So – let's start with coats and jackets as usual. Oh, and today we're seeing what Zara has to offer (with the occasional foray into M&S when I felt that nothing Zara had to offer was wearable by anyone over the age of 40!)
Trench coat with roll up sleeves £70
Trench coat £100
Embroidered waistcoat £70
Jacket with Patch pockets £70
As you can see, we're channeling Casablanca with the classic Trench coats, although it has to be said that, in Zara, the silhouette of these coats is noticeably softer, which is a bit of a theme for the trend really. These coats, which, let's face it, are a bit of a wardrobe perennial, come belted or loose, with shoulder flaps or without, but mostly in khaki, navy or cream/beige. I have yet to find one in apple green. But that maybe because there are not that many girls who'd actually buy one in apple green. I mean – I wouldn't: not because of the colour, which I love, but because stylewise, I can't wear a trench coat without looking like a potato sack tied in the middle with string. For all us curvy girls – don't try to do the Trench coat, okay? Just don't.
Going down to the jackets, I was so sad not to find the nineteenth century military jackets (the scarlet regimentals worn by Sgt Frank Troy in Far From The Madding Crowd – I did love that film, as you might have guessed. Oh, and dash it -I showed you Gabriel Oak last week; here's Tom Sturridge as Frank Troy….
…and the only reason I'm not showing you the bedroom scene is that then you wouldn't see his scarlet regimentals…)
No – it's modern army again. The khaki jacket has big patch pockets and – pick of the high street as far as I'm concerned – for imagination if not wearability, is this combat waistcoat in broderie Anglais.
So what else is there? Tops are supremely bland, so we won't go there. Ah,skirts – mostly A line. In Zara of course, you're lucky to find anything that hits below mid thigh, but the feel of them might be educational at least.
Wrap skirt with military buttons £26
Military Mini skirt £26
ElasticWaist skirt £30
suede A line skirt £40
I don't really feel there's much to say about these skirts. They rather speak for themselves, in a very clipped "Yes Sir," kind of way…
Let's look at dresses then…
Shirtdress £36
Dress with military detail studs £40
Faux leather dress with patch pocket £26
M&S Shirtwaister £40
So, we've got the classic 1940s shirtwaister (please note the sensible version in M&S bottom right) the tunic with military buttons/studs and the leather tunic with utterly superfluous patch pocket. I mean – what are you going to put in there, girls? Yes – and I know where your mind has gone and mine has gone there too, but –  we're going to keep it clean, alright?
Ah, but jumpsuits are back…. (nostalgic sigh for the Eighties…) Do you know that, when I had my colours done, back in (um) 1996 or thereabouts, I had exactly three items of clothing in my wardrobe that were actually in Spring colours. One of them was a jumpsuit in bright turquoise. The style didn't suit me then and wouldn't suit me now – but I've always had a soft spot for them. Maybe it's because I always had more than a soft spot for that Biggles…
jumpsuit £40
M&S collared Jumpsuit £49.50
combined jumpsuit £30
Now, the M&S one is traditional, as you'd expect, but mostly the military jump suit has softened it's lines to become more feminine, as you can see. But still – jumpsuit. I mean – jumpsuit….
And, with more than a nod in the direction of the land-girls…
twill dungarees
Dungarees with skirt £30
…. although I am not quite sure where dungarees leaves off and hillbilly starts…
And lastly – just for a "treat" how's this? Leggings with a military stripe…
leggings £18
Well, that's all I can stand this week. #profoundlyuninspired. But, never let it said that I leave you wanting. I've always liked a man in uniform so how about this one?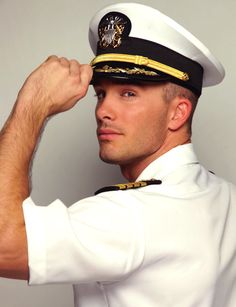 Too young, you say? Right …….
 Okay, Okay, I get it. We're all over eighteen here and what you really want is something like this. Well – I just aim to please…..
Have a great day, everyone!